San Francisco's Perennial Is Beyond Farm to Fork: A Marriage of All Things Sustainable
Photographer, writer, activist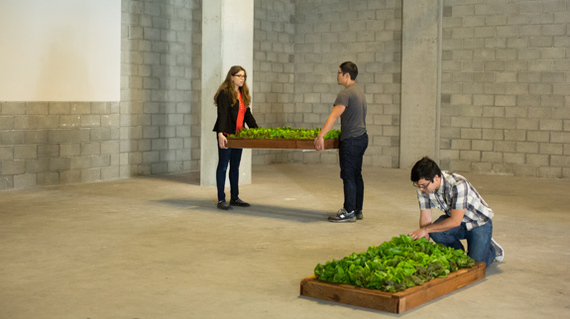 The history of restaurants reaches back thousands of years to the thermopolia of ancient Greece, where customers cozied up to an L-shaped bar, not unlike what you might see around the world today. Yet each individual restaurant serves as a kind of snapshot in time which expresses our pleasures and our values, and reflects our ideas about sustenance and community.
I recently met a couple of idealistic restaurateurs who, in San Francisco, are trying to shape the restaurant industry for the twenty-first century by building a new kind of public eatery where environmental sustainability will be on the table right alongside the food and drinks.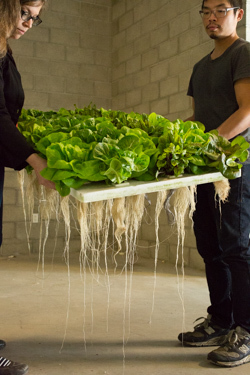 The husband-and-wife team of Anthony Myint and Karen Leibowitz have already opened a few philanthropic restaurants, such as Mission Chinese Food, which has donated $300,000 to the local food bank, and Commonwealth, which has raised over $250,000 for an ever-changing list of charities.
Their next restaurant, called The Perennial, will donate a hefty chunk of its proceeds to a brand-new foundation called Zero Foodprint, which educates and enables restaurants to reduce their carbon footprints. Myint serves on the advisory board of Zero Foodprint, and he says that the long-term goal of both the restaurant and the foundation is "to establish carbon neutrality as a new kind of value in the restaurant industry, along the lines of organic, local, and artisanal."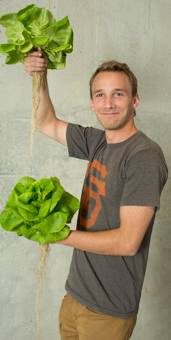 Slated to open next February in downtown San Francisco, The Perennial will operate with a farm-to-table ethos, but will also explore the potential for a new "table-to-farm" philosophy that makes better use of resources, including food waste. Myint and Leibowitz are expanding the meaning of a restaurant with an ambitious roster of ecological projects that will spark conversation and encourage community participation, such as the 2000-square-foot aquaponic greenhouse to be operated with the help of Nathan Kaufman, of Viridis Aquaponics.
In an aquaponic system, plants and fish co-exist in a symbiotic relationship: the plant's roots filter the water for the fish, while fish provides essential nutrients to the plants as their waste is converted into nitrates. The Perennial's aquaponic greenhouse will be powered by scraps from the restaurant's kitchen, creating a closed loop in which unusable food is transformed into California sturgeon as well as herbs, lettuces, and other produce.
Unlike a hydroponic greenhouse, the inputs in an aquaponic system are completely organic, and aquaponic greenhouses use up to 90% less water and can be 8 times as productive per square foot than traditional, soil-based farming. That's really astonishing! As Leibowitz told me, "This feels like the future of farming, especially in drought-plagued California, but it also draws on a long history of cultivating rice and carp together in Southeast Asia."
As I learned more about The Perennial, I was pleased to discover that the name was inspired, in part, by Wes Jackson and The Land Institute's efforts to restore perennial root systems, which can sequester atmospheric carbon in the soil, as perennial plants convert carbon dioxide into fabulously long root systems. Myint and Leibowitz have arranged to serve bread made from The Land Institute's perennial alternative to traditional wheat, a naturally bred intermediate wheatgrass called Kernza, which boasts high yield, root-based carbon sequestration, and pest resistance. The bread will be developed through a collaboration with Chad Robertson, the renowned bread-maker behind of Tartine Bakery, so it will certainly be delicious.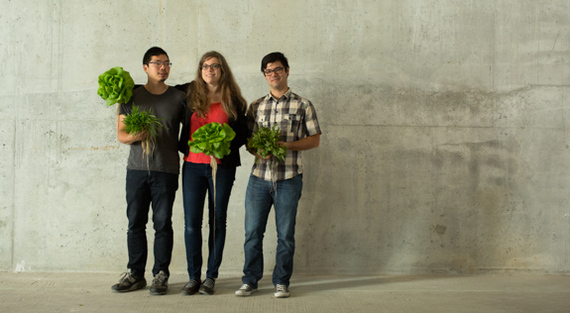 Of course, none of this cutting-edge ecological agriculture will matter unless customers want to eat at The Perennial. Fortunately, chef and co-founder Chris Kiyuna knows how to connect culinary satisfaction with ecological engagement. They're billing The Perennial's culinary style as "climate-conscious California cuisine," and Kiyuna is developing dishes that will showcase their in-house agriculture alongside outstanding local produce, as well as responsible use of sustainably raised meat. He draws not only on his own passion for fresh ingedients but also on his recent training at Copenhagen's Restaurant Noma, where Chef Rene Redzepi has led the charge to make restaurants more thoughtful about their place in the food system.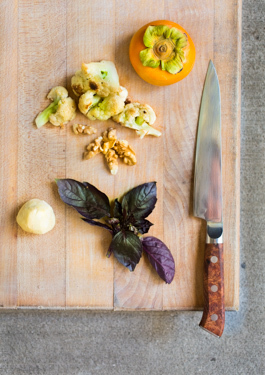 Kiyuna showed me how to make a new dish he's been working on: Autumn Cauliflower with Fuyu Persimmon. The simple, vividly colorful ingredients were roasted and dressed in a light vinaigrette invigorated by home-made preserved Meyer lemon. Once the greenhouse is up and running, it will produce beautiful purple basil of the kind that Kiyuna roughly chopped and mixed with walnuts and chestnuts. The resulting dish was bright, thoughtful, tasting of autumn.
These days, there are plenty of restaurants that call themselves "farm-to-table" or claim to use "local, sustainable, and organic produce whenever possible," but I've never encountered a restaurant that is so thorough in its commitment to sustainability. The sourcing is very progressive: the bar will serve wine by the glass from taps to reduce unnecessary emissions from transporting bottles; the coffee will be from a local sustainable roaster, Paramo Coffee; and perhaps most impressively, the beef will be raised in a managed-grazing style that encourages perennial roots and carbon sequestration. Even aspects of the restaurant that will be invisible to the public are environmentally responsible: the whole kitchen is being built in consultation with an energy consulting group, so that it will become a showcase for environmental best practices within the restaurant industry.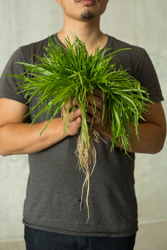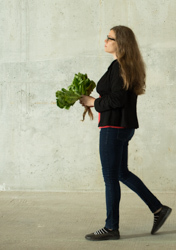 Could The Perennial be a sign of a larger shift in the culture? Only time will tell, but let's hope so. If others follow The Perennial's lead, sustainability could become the watchword of the restaurant world, and that would really be something to celebrate with a nice dinner at your favorite thermopilia…and a very happy marriage indeed.
To view more photography from this story, click here.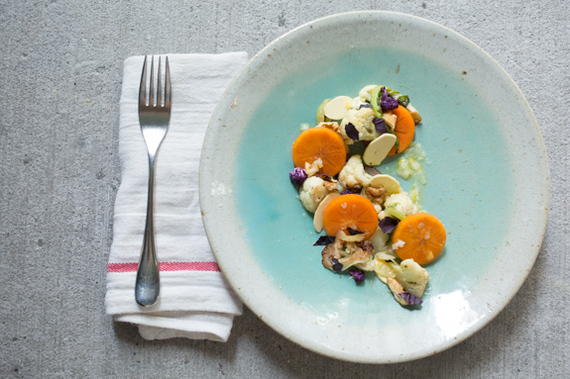 Photography by Julie Ann Fineman
Add to Favourites